In the world of cannabis cultivation, one brand has consistently set the standard for excellence – Paradise Seeds. This blog post is not just about the brand but also about its visionary founder, Luc Krol, who has been instrumental in shaping its legacy.
A Brand Born in Amsterdam
Paradise Seeds came into existence in 1994, right in the heart of Amsterdam, a city renowned for its vibrant cannabis culture. At that time, Amsterdam's coffeeshops were filled with imported hash and weed from various corners of the world. The quality of these products, however, left much to be desired. Paradise Seeds emerged with a clear vision – to revolutionize the cannabis landscape by creating superior strains.
The Vision of Luc Krol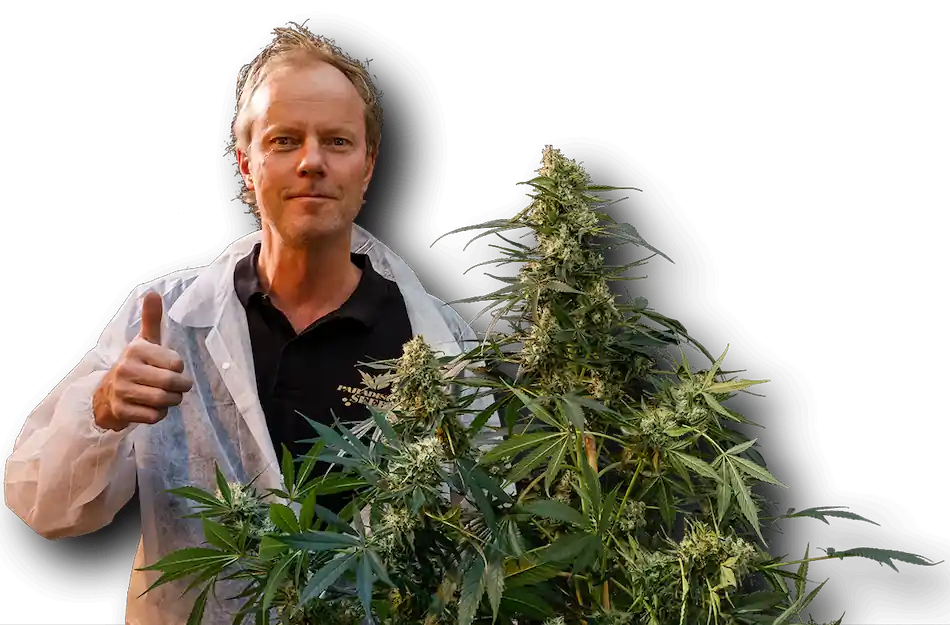 Central to the success of Paradise Seeds is the founder, Luc Krol. His journey in cannabis cultivation dates back to the early 1980s. Luc's mission has always been clear – to select the very best genetics and create cannabis strains that not only deliver a powerful effect but also boast a delightful sweet and spicy taste.
Luc's passion for cannabis led to the formation of a solid strain base that serves as the cornerstone of Paradise Seeds' work. This foundation is built on the meticulous selection and crossbreeding of the most potent cannabis plants.
A Commitment to Organic Excellence
One of the hallmarks of Paradise Seeds is their unwavering commitment to organic cultivation. Their cannabis seeds are cultivated with great care, ensuring they contain all the necessary trace elements needed for robust growth. The process includes strict criteria for pollination, secure pollination rooms to prevent any cross-contamination, and the use of pollen filters in their grow rooms.
But Luc Krol's dedication to quality doesn't stop at the cultivation stage. Each seed is hand-selected to ensure only the best make it to customers. Paradise Seeds goes the extra mile to guarantee fresh, viable seeds with a remarkable 95% germination rate under the right conditions.
Consistency and Authenticity
When you promote Paradise Seeds, you're promoting a legacy of authenticity and reliability. The strains you offer your customers are as genuine as it gets. Paradise Seeds doesn't settle for less. The strains you read about in their descriptions and see in their photos are precisely what you're selling. This trustworthiness is a result of their unwavering commitment to providing only genuine seeds.
A Legacy of Awards
Paradise Seeds' excellence isn't just a claim; it's backed by an impressive collection of awards. They've been recognized in over 50 cannabis competitions since 1999. Strains like Sensi Star, Delahaze, and Nebula have received numerous accolades. Notably, their Sensi Star won High Times magazine's Plant of the Year in 2003.
THC and CBD Varieties
Paradise Seeds understands that the cannabis market is diverse, with consumers seeking different experiences. They offer a range of strains with varying THC and CBD levels to cater to both recreational and medicinal users. Whether customers seek the psychoactive effects of THC or the calming properties of CBD, Paradise Seeds has the ideal strains.
Embrace the Legacy of Paradise Seeds and Luc Krol
As we conclude our journey into the world of Paradise Seeds and its visionary founder, Luc Krol, we're left with a profound appreciation for the dedication to excellence and innovation that this brand represents.
Luc's passion for cannabis and his commitment to crafting top-tier strains have not only earned Paradise Seeds a stellar reputation but have also contributed to the evolution of the cannabis industry.
In sharing this story with you, we hope to inspire a deeper appreciation for the art and science of cannabis cultivation. Whether you're a seasoned grower or a passionate connoisseur, Paradise Seeds offers a gateway to a world of premium strains that stand as a testament to the rich heritage of cannabis.
Visit their website to explore their impressive range of strains, each with a unique character and flavour profile. Allow yourself to be transported into the world of Paradise Seeds and experience cannabis at its finest.